If you are caring for a loved one in hospice, you may be wondering…how can I honor my loved one's life and memory? How can I make the celebration of life memorable and unique? With these tips on how to personalize a funeral, you can create a memorable service that will honor your loved one's life in a way that is personal, meaningful, and healing.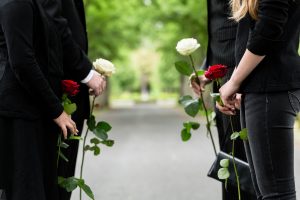 Dr. Alan Wolfelt, a nationally respected grief author and educator, has identified 7 elements that create a meaningful and healing funeral or memorial service: music, readings, viewing/visitation, eulogy, symbols, gathering, and actions. When you personalize these elements, you can create a funeral experience that touches hearts and meaningfully celebrates someone loved.
The most important thing to remember is that personalization is key. The more personal a funeral or memorial service is, the more healing and meaningful it will be. Dr. Wolfelt says, "Focus on what is really important—what is essential—about the funeral you are planning.  What is essential is the life that was lived and the impact that life had on family and friends.  To honor that unique life, the funeral must also be unique. Over and over families tell me that the best funerals are those that are personalized."
Let's review the 7 elements and discuss ideas for personalizing each one.
Music
First of all, music sets the tone of a funeral or memorial service and brings emotions to the forefront. In fact, one of the purposes of a funeral is to allow mourners to grieve together, and in many ways, music says what words cannot. We often shy away from our emotions, but don't be afraid to invite people to express their grief. Consider using music as an avenue to bring out what people are thinking and feeling.

How to Personalize:
Choose songs that were significant to your loved one, no matter their musical genre
Consider whether to have music performed live or if you prefer to use recordings
If you have musical family members, you might ask them to play/sing a song
For those who are religious, choose appropriate hymns or praise songs
For a few more ideas, please read Top 10 Hymns for a Funeral Ceremony, Top 10 Songs for a Funeral Ceremony, Top 12 Country Songs for a Celebration of Life Service, and Why Include Special Music in a Funeral Ceremony?
Readings
Second, readings add another facet to a meaningful service. They are another way to invite mourners to express their emotions while also honoring the unique spirit of the one who has died. Have you ever heard a poem, lyrics, or movie quote that really spoke to you? These can easily be used as a reading and can add a deeper dimension to the service.

How to Personalize:
Use quotes from favorite books, plays, movies, or TV shows
For a person of faith, read passages from an appropriate holy book
Consider reading special poems or quotations
Read a letter you have written to your loved one
You could use your loved one's own personal writing or incorporate catchphrases they are known for
For additional ideas, check out How Do Readings Enhance the Funeral Experience or Top 10 Poems for a Funeral Ceremony.
Viewing/Visitation
Third, the viewing or visitation is a time for family, friends, coworkers, and neighbors to gather and express support and sympathy. If you choose, a viewing creates an opportunity for mourners to see your loved one a final time and begin to acknowledge the reality of their death. For many, as part of the grieving process, it is important to physically see the body. The viewing offers this opportunity. However, a family can choose to simply have a visitation, which is a set aside time to gather and receive support from caring friends and family without the body present.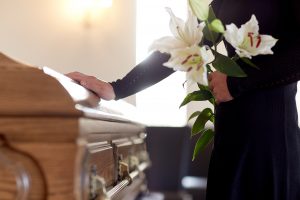 The viewing and/or visitation offers a special time for personalization. Whether the body is present or not, this is a time to tell a story – your loved one's story.
How to Personalize:
Display photos, mementos, or items associated with a hobby or interest (books, artwork, ceramics, model planes, etc.)
Invite guests to write down a memory on provided notecards (the family can enjoy them later)
Provide a keepsake token to take home (a book, a favorite recipe, etc.)
Create a memorial work of art, like a thumbprint tree
Bring a photo book or your loved one's favorite book and ask people to write notes inside
Create a slideshow to play during the event
Eulogy
Fourth, the eulogy may be the single most important aspect of a funeral service. It's important to carefully consider what you want to say. After all, the eulogy is the time to acknowledge and affirm the significance of the life lived. The eulogy, sometimes called the "remembrance" or the "homily," can be delivered by a clergy person, a family member, or even by a series of people.

How to Personalize:
Share memories, quotes, or even a loved one's favorite jokes
Tell a significant and meaningful story about the person who has died
Bring visual aids (like an item the person carried or was known to cherish)
Share something the person taught you and how they impacted your life and the lives of others
For more helpful ideas, please read What is a Eulogy and Crafting a Eulogy.
Symbols
Fifth, symbols are an important aspect of a funeral because they convey love and comfort, facilitate expression, and offer a focus point for the bereaved. For instance, people often send flowers, make memorial donations, or bake casseroles to convey the love they feel and the support they offer.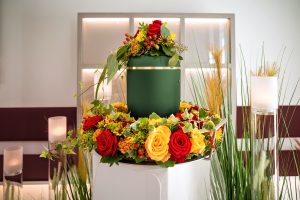 For one grieving family, an appropriate symbol was the quilts their grandmother made. Before her death, she made a quilt for every child and grandchild, and at her final tribute, the quilts were displayed on the pews – a representation of her love and impact on her family. Common symbols are an appropriate religious symbol, flowers, dark clothing, and candles, but you can use whatever feels best to honor your loved one.
How to Personalize:
If appropriate, ask everyone to wear your loved one's favorite color to the funeral
With traditional burial, the body and casket are the ultimate symbol or focal point
With cremation, a symbol might be an urn, a portrait, or some other appropriate item
If they were a person of faith, include religious symbols to offer comfort
If they were known for something (like quilts), turn those items into a symbol
Gathering
Sixth, the gathering is an opportunity for friends and family to come together after the funeral service to share stories and to support each other. This event may occur at the funeral home, an event center, someone's home, or even a local restaurant. The point of a gathering is to bring people together directly following the service to share stories, remember a loved one, and connect (or reconnect) with people.
In many ways, the gathering is another excellent place for personalization because you may have more time and a lot of space to work with.

How to Personalize:
Have the gathering at your lost loved one's favorite restaurant
Choose a venue that meant something to the person who has died (for example, a church, local country club, beach, park, etc.)
Serve your loved one's favorite foods
Display photos, cherished possessions, and mementos
Decorate with your loved one's favorite colors
Include a set aside time when friends or family can publicly share special memories
Create a memorial work of art together or plant a memorial tree
Actions
And finally, by inviting others into action at the funeral service, you engage mourners and invite them to put their grief into motion. Simply put, mourning is the outward expression of our inward grief. To move others toward healing, it is important to invite them to act.

How to Personalize:
Participate in a release ceremony (biodegradable balloons or lanterns, doves, etc.)
Incorporate keepsake items
Invite mourners to write down memories on note cards
Ask family and friends to bring photos they have of your loved one to add to a group collage
Set a theme that invites attendees to wear your loved one's favorite color or style of clothing (i.e. Hawaiian shirts, sports jerseys, etc.)
Light candles of remembrance
Ask people to take part in the service as eulogists, readers, singers, musicians, or pallbearers
Hopefully, these thoughts will spark ideas of your own. Ultimately, planning a funeral or memorial service that lovingly reflects your loved one's life, passions, values, and beliefs creates an opportunity to specifically and meaningfully remember, honor, and celebrate their life.
As you consider how you can incorporate these 7 elements into a funeral or memorial service, remember that you aren't on your own in this. The funeral home has caring and experienced staff ready to help you with all your questions and concerns as you create a moment in time that can bring peace and comfort for years to come.